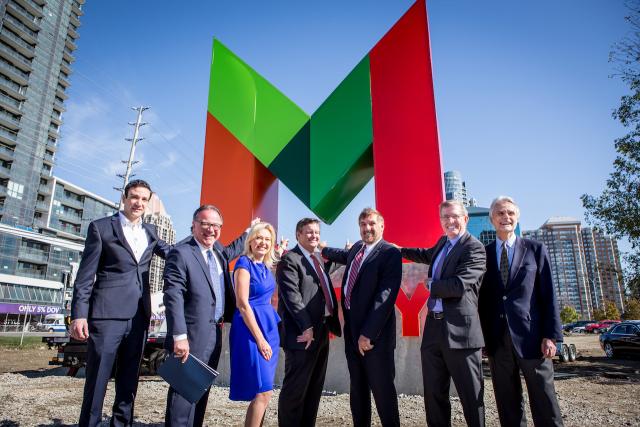 Ten Years in The Making
"M City Condos" is a new condo development by Rogers Real Estate Development Limited and Urban Capital Property Group currently in pre-construction at Burnhamthorpe Road West, Mississauga. Mississauga's future is about enjoying today. That's the goal of "M City" – the new condominium community located at Burnhamthorpe Road and Confederation Pkwy. Nestled in Mary Fix Creek Gateway, this city-within-a-city combines green open spaces with a tight-knit neighbourhood feel, all in downtown Mississauga.
This city-within-a-city is ambitiously set to create a dynamic public realm with a total of 10 residential towers, townhouses, green spaces, and outdoor living. As a master-planned community, M City spans 4.3 million sq. ft. of land and features a range of retail shops and cafes at street level, in addition to over 2 acres of new parkland – the perfect place for outdoor activities. M City Phase 3 will be joining the earlier two serpentine towers which will be Mississauga's tallest buildings when complete in 2021.
Metrolinx Hurontario LRT
The Hurontario LRT will be 20-kilometres of lines, running from north to south, and right next to M City. Expected completion is in 2022 and will provide much-needed relief to the Hurontario corridor. It will have 22 stops and its own dedicated right-of-way – so no pesky traffic to deal with. Riders will be connected to the Milton and Lakeshore West GO lines, along with local transit links.
EVEN MORE TRANSIT OPTIONS AT M3
Local transit such as MiWay, Brampton Transit, and Züm will take you to your destinations comfortably. Both Square One GO Bus Terminal and GO Cooksville Station are nearby. Hurontario connects residents to Highway 403 and the QEW making your travels around the GTA simple. Moreover, an abundance of bike and pedestrian paths lets the community get from one place to another while getting some exercise too!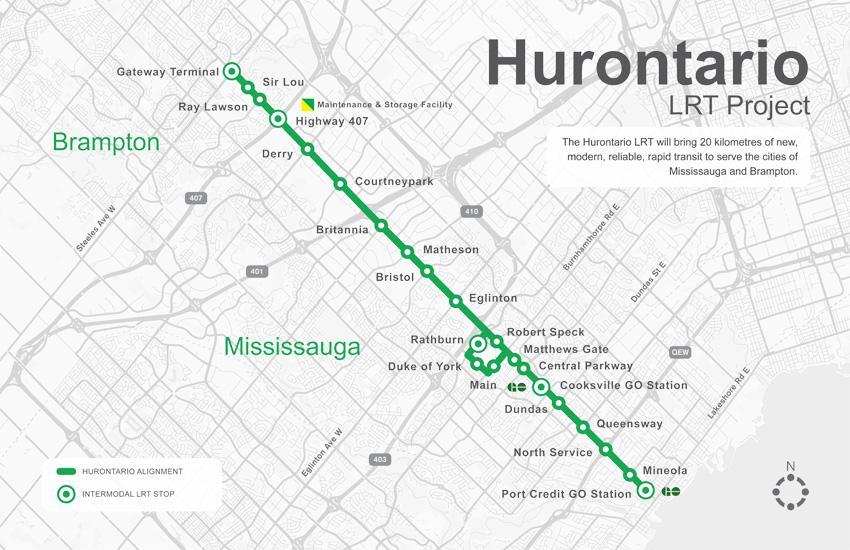 Walking Distance to Everywhere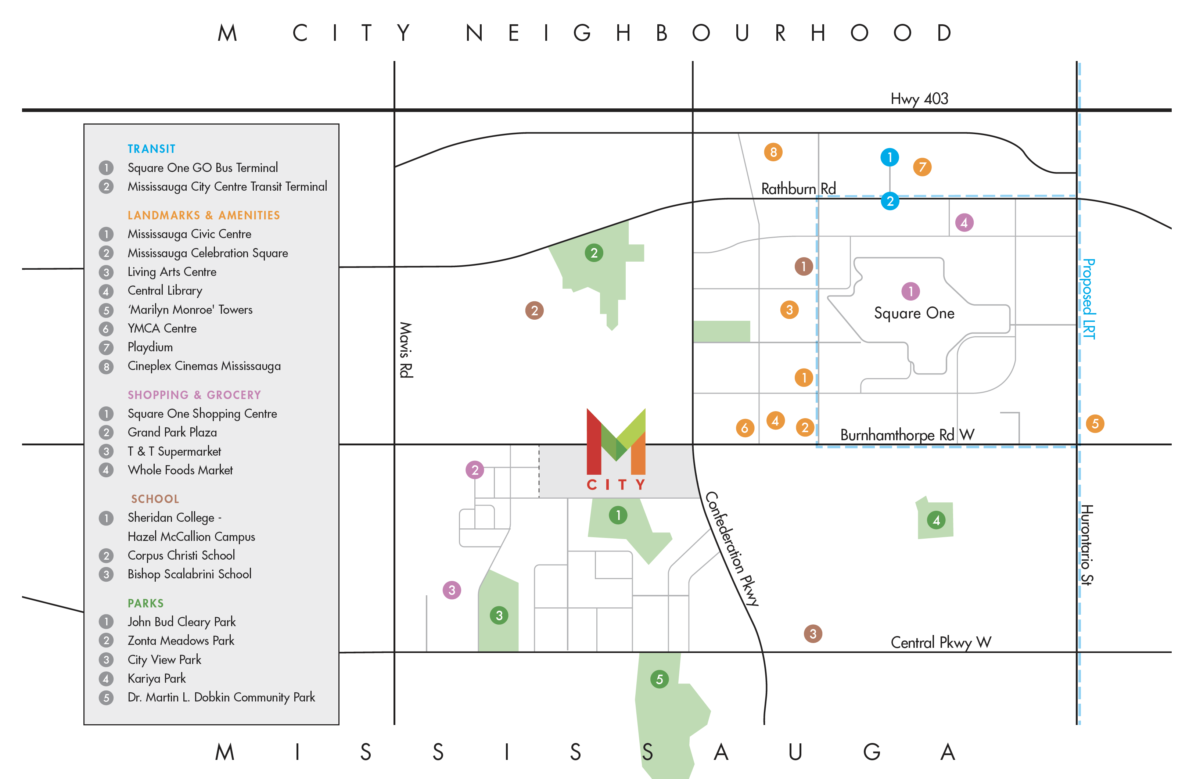 Mississauga's top shops, dining, schools, parks, and entertainment are all just a few steps from M City. As an M City resident, you can grab a quick bite as soon as you step outside with Alioli, Kinton Ramen, Pizza Nova, and Smoke's Poutine just a 1-minute walk away. Stroll a little further west and you'll find Mississauga's Celebration Square, Civic Centre, Central Library and the Art Gallery of Mississauga. There are many events and celebrations hosted in this area and you'll even find fresh, local produce and baked goods at the farmer's market as well as movie nights in the summer!
Striking the perfect balance between work and play, there are also plenty of parks and entertaining places to hit up. Walk to John Bud Cleary Park in 5 minutes or the Japanese-inspired Kariya Park in 13 minutes. Enjoy the Mississauga Symphony Orchestra at the Living Arts Centre or experience all the arcades and games at Playdium Amusement Centre – there's something for everyone! Getting the kids to school won't be difficult as there are more than 4 schools within a 20-minute walk in addition to the Hazel McCallion Campus of Sheridan College next to Square One. Moreover, many supermarkets, restaurants, banks, and services are also within walking distance. Mississauga's future truly starts at M City.
Amenities
Details regarding M City Phase 3's height, amenities, and unit breakdown have not been announced, but you can expect similar high-design finishes and modern facilities as the previous towers. CORE Architects will ensure M City Phase 3 is as beautiful as the prismatic towers of the previous phases.
Focussed on building the community, many aspects of M City have been planned to encourage social activities. The preceding phases featured a four-season outdoor amenity space which included a hotel-style saltwater pool, family-friendly splash pad with playful spray jets, and a rooftop skating rink—a first for the GTA. Interior amenities include a chef's kitchen and dining room, small and large lounges, a kids lounge with games and play zone, and a fitness centre with weights, spinning, and yoga.
Suite Finishes
Interiors designed by the award-winning firm, Cecconi Simone, are sure to be filled with contemporary touches like stone countertops and sleek kitchens and bathrooms. All suites are efficient and highly livable and were planned with the resident in mind. The overall design is very urban and chic, reinforcing the concept that M City is reflective of a new Mississauga.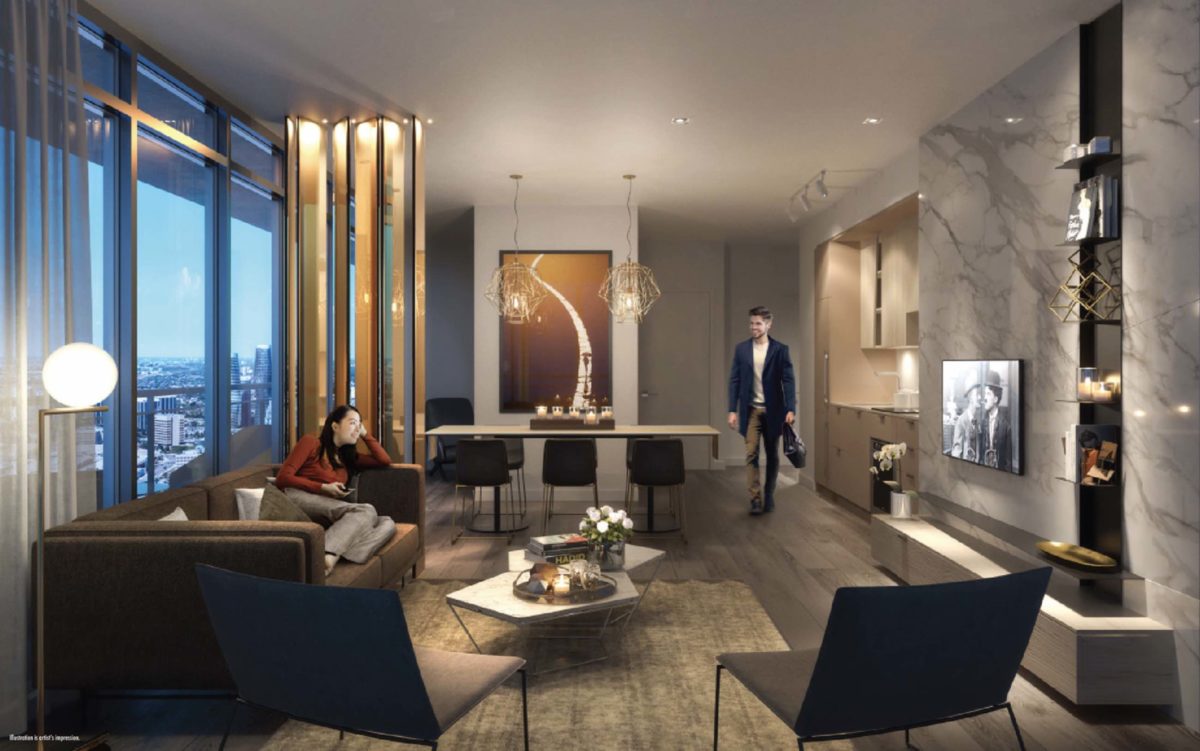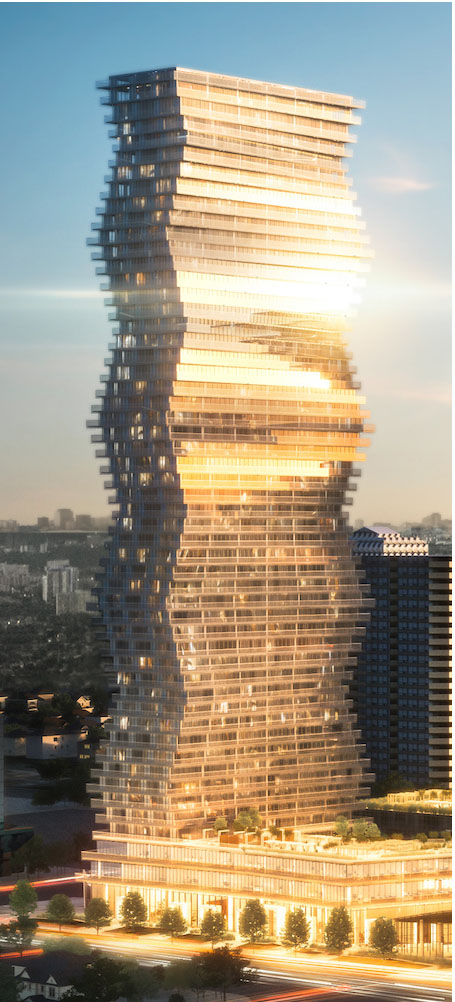 THE M CITY VISION
Mississauga's future is about enjoying today. That's the goal of M City – the new condominium community located at Burnamthorpe and Confederation Pkwy.
Nestled in Mary Fix Creek Gateway, this city-within-a-city combines green open spaces with a tight-knit neighbourhood feel, all in downtown Mississauga. And because this community is about bringing family, friends and neighbours closer, everything they need is closer too. With Square One, Sheridan College, banks and libraries a walk away, commercial and public amenities are well within reach.
Culture, character and personality are also what make a community great. Residents can find the best of it at the nearby Civic Centre, Celebration Square and the Living Arts Centre. Here, they can get to know each other and celebrate the diversity of their neighbourhood. But when they need to travel a bit further for work or pleasure, residents have transportation all around them. Whether they want to use the GO, Mississauga Transit or bike paths, getting around is super easy.
M City is poised to create a dynamic public realm designed to add a new vibe to Mississauga's thriving culture, while providing its residents with the things it needs to grow. With its future set on connectivity, character and sustainability