A 15-acre plot of land that has long sat as a vacant field on the south side of Burnhamthorpe Road in Mississauga is finally to be transformed by a $1.5 bn development to be called M City. Originally to be the site of a radio transmitter, the property owned by the Rogers family through Rogers Real Estate Development Ltd., will now be built out over the next several years with 4.3 million square feet of space spread across 10 towers, podiums, and townhome rows. First-time residential developers Rogers will be partnering with veteran developers Urban Capital to build the condominiums.
Images of the development, which has zoning approval from the City of Mississauga, depict high-rise towers rising from podiums across most of the 15 acres. The site plan below, (which includes the separately-built Pinnacle Grand Park towers at the left), introduces a number of new streets across the property, and also indicates the location of over 2 acres of new public parkland and piazza areas. The Mary Fix Creek flows south through the east side of the park spaces.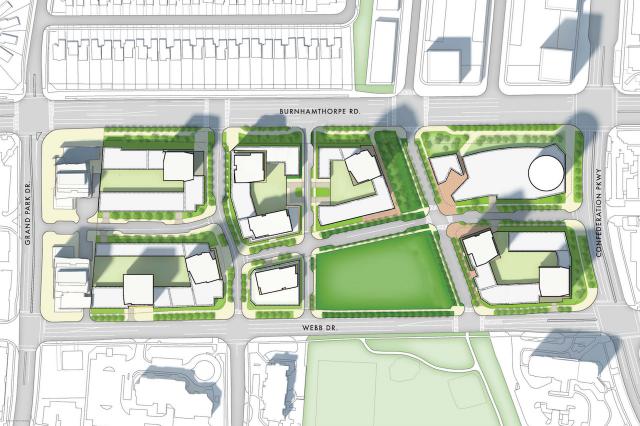 While the layout of the site—designed by Cooper Robertson of New York—can be considered final, the shapes of the buildings depicted on the site plan should be considered conceptual, as should the renderings for all but one of the towers. It's the northeast corner of the site which will be the first to be developed, with an undulating 51-storey condominium tower designed by Core Architects. The building, which repeats one of seven different floor plates as it rises, was the winner of an invited competition among three high-profile Canadian architectural firms, and is meant to set the sophisticated tone for the rest of the development to follow.
Cecconi Simone has been retained to create interior designs for the suites and amenities that are worthy of the Core-designed tower. Outside, Rogers and Urban Capital are looking for an equally sophisticated approach that provides generous walking and relaxing space which people will find enticing and convenient to use: just down the block is Mississauga City Hall and its popular Celebration Square, so increased pedestrian activity in the area is something the developers mean to foster.
All involved, from Mississauga's planners, to the ward councillors and mayor, to the developers and their team, realize that a creative, throughly thought-out proposal for this 15-acre parcel is key to creating a landmark western gateway to downtown Mississauga, one that can hold its head high along with the world-renowned Absolute Towers which now form the area's eastern gateway. Edward Rogers, Deputy Chairman of Rogers Communications Inc. states in the press release "Rogers has an enduring history with the City of Mississauga. We believe in the city and in the vision that was set forward in Downtown21. With the help of Urban Capital and our development team, we aim to contribute to the evolution of Mississauga's downtown. M City will be anchored by iconic design, it will prioritize public spaces and parkland, and it will offer residents the best technology available now and into the future."
Source: Urban Toronto